Desna gracefully meanders on a vast territory that covers 17 villages, creating delightful landscapes on its way. Its waters overflowed for tens of kilometers, filling meadows, swamps and slightly flooding trees. Such natural beauty of nature can be found in few places in the whole world. Therefore, if possible, it is imperative to see the magnificent panorama of the national reserve "Mezin Switzerland". Especially if you prefer a quiet outdoor recreation in Ukraine.
Mezin Switzerland – What is it?
The Mezinsky Natural Park, however, like all of Polesie, is a special place, where among the pristine thickets and green meadows you can find silence and there is absolutely nowhere to hurry! The location here is a good solution for a family vacation. Apparently, therefore, Mezin Switzerland is in high demand and is considered the most popular tourist part of the park zone, which starts from Radichev and stretches to Desnyanskiy. The eco trail is accessible to motorists and pedestrians. Accordingly, the reserve, first of all, is of great interest for cycling tourism and for those who independently plan travel around Ukraine by car. If you are one of them, then pack your camping gear for fishing, kayaking and everything else for outdoor activities.
The total length of the ecological hiking trail "Mezin Switzerland" is 6 km. If you are walking at a leisurely pace, your walk will take about two hours. You can also explore the surroundings by riding a bicycle, car or motorcycle.
For the convenience of tourists, along the trail, there are comfortable observation platforms where you can relax and dine.
The most recognizable photo zone in the park is the mammoth, which few tourists bypass..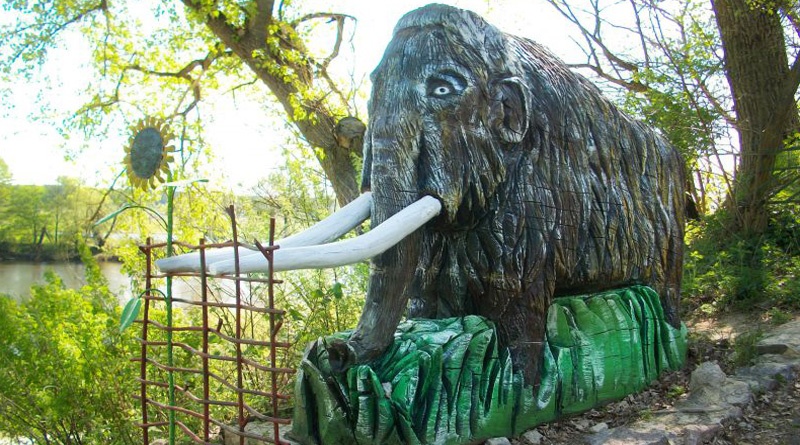 When all the beauty of this land opens up before your eyes, you take your breath away and pride in your country awakens. After all, we really have something to be proud of. You can endlessly look at the magnificent panorama of Mezyn Switzerland. Its green fields, where the Desna snake wriggles and which on both sides are embraced by willows that slowly dance under the gentle breath of the wind, and various sounds of nature fill our heart and soul with some kind of unusual calmness. 

It is difficult not to notice or bypass Mazepa's oak, which witnessed the Northern War. According to historians and local historians, it was here that the negotiations between Karl XII and Mazepa could take place. Whether it's true or not is hard to say. But one thing can be confidently asserted, here is a picturesque place where you should linger a little before continuing your acquaintance from Mezyn Switzerland.
Flora and fauna of Mezyn Switzerland
If your already planned weekend getaway is a visit to "Mezyn Switzerland" and you are expecting a vivid experience of the natural beauty of the wild, then you are on the right track. The abundance of flora and fauna of the reserve leaving wonderful memories of the time spent here. After all, beavers, wild boars, moose, badgers, an incredible number of storks and squirrels, ermines and goats live in the park zone. The peculiarity of this reserve is that to see the local guests, you just have to take a leisurely walk around its territory, looking around.
Among the natural attractions of Ukraine, Mezyn Switzerland deserves special attention. And it doesn't matter at all whether your goal is to find a fern flower on Ivan Kupala, to see rare plants, and there are more than enough of them here, to take a break from the daily hustle and bustle or enjoy the beauty of spring lilies of the valley. Reserve "Mezinsky Switzerland" – a great option for your leisure time, especially if you do not know where to relax in Ukraine in the summer?
How to get to the reserve and where to stay?
There are several ways to get to the reserve, it all depends on the specific case. But most often beginners or experienced tourists who prefer independent travel in Ukraine prefer ready-made tourist routes, slightly adjusting them at their discretion. For example, the best tourist route in the Chernihiv region from travels-ukraine, where the Mezinsky Switzerland reserve is part of the tourist program, is in great demand.
If you are worried about spending the night in the area of the reserve, then you should not worry too much. You can stay in Radichev, where there is a good camp site which is maintained by the Mezinsky Park, or in Desnyansky you can rent a room or a house in the private sector.
If you are interested in the opportunity to dive headlong into the world of wildlife, then a tent is a good solution to your housing issue. You can take it with you or rent it in the park, however, like a sleeping bag.
Автор ⁞ Гребович Н.И ⁞ 15.05.2021
Location
Address: s Radichev / s. Desnyanskoe, Koropsky district, Chernihiv region
GPS coordinates: 51°43′09″ с. ш. 32°17′12″ в. д