Millennium Oaks. Stuzhitsa
If you plan to spend your free time among the picturesque nature of the Ukrainian Carpathians, then you should pay a visit to the village of Stuzhitsya.
In this seemingly inconspicuous settlement, the oldest oaks in Ukraine, which fascinate with their grandeur and beauty, rise to the skies for more than 1,300 years to heaven.
It is probably worth noting that local oaks are second only to the olive tree in their age, which, according to experts, has reached 2,000 years and another pride of Ukraine – the pistachio tree. Its age exceeds 1,700 years. A miracle of nature is growing in the Nikitsky Botanical Garden.
There are only two record holders in Stužice. The difference in their age is 100 years.
The first is known as the Champion Oak, which reaches 25 meters in height and 9.6 meters of girth. The second in its height is slightly in the lead (30 meters), but significantly inferior in trunk girth (9.1 meters). Magnify his Dedo-oak.
By the way, in 2010, Oak Champion deservedly awarded the title of the National Tree of Ukraine. Near the natural celebrity there are cozy altars, as well as viewing platforms, where you can take a break and enjoy the magnificent view of the surroundings.
Information stands for curious tourists are located nearby.
A source of the purest mineral water makes its way very close from the bowels of the earth.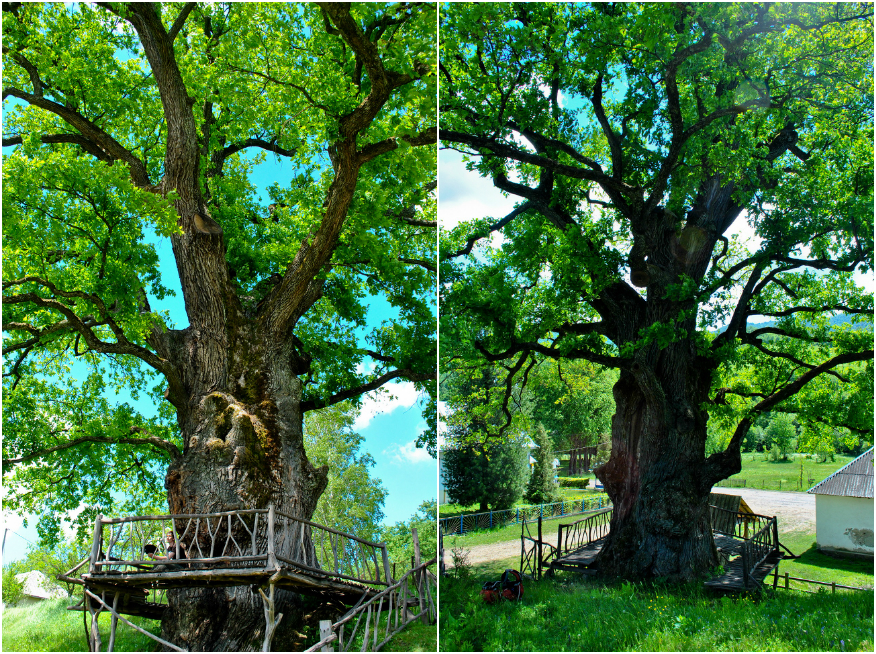 Useful information for tourists
Every year, local people organize a very colorful "Milk River" festival in Stuzhytsia, where everyone can enjoy the taste of homemade cheese.
A popular tourist route starts from the village of Stuzhitsa, which leads to the famous Kremenets mountain. For those who do not know, it should be noted that it is here that the border zones of the three powers – Ukraine, Poland and Slovakia – are located.
Do not miss the opportunity to walk to the stow Black Mlaki, it is located relatively not far away, about 6 km away. The peculiarity of this place is that it was here that the world-famous meteorite "Princess", which is considered to be the largest in Europe, fell.
Location
Address: s. Stuzhitsa, Transcarpathian region
GPS coordinates: 49.023611, 22.611667