Summer Holidays in Bukovel
Wonderful rest in Bukovel among the magnificent nature can be at any time of the year.
In summer, in the popular resort of Ukraine, you can go horseback riding, ride a bicycle, a jet ski, go on a jeep tour, quadrangle or a tour of the pedestrian route and enjoy the magnificent panorama of the Ukrainian Carpathians.
For active recreation you can visit sports grounds, climbing wall, extreme park.
For children in the complex there is a wonderful children's club, as well as an entertainment center.
The main summer entertainment in Bukovel is the largest artificial lake in Ukraine.
On its perimeter the beach territory is arranged, which occupies more than 2 km.
The total area of ​​the lake is 6.8 hectares, and the depth is 15 m.
The reservoir is very popular among Ukrainian and foreign tourists.
And this is absolutely not surprising, because here crystal clear water, fresh mountain air, magnificent nature, excellent conditions, polite staff, experienced rescuers and instructors, a huge number of water activities: jacuzzi, swimming pool, diving, jet ski, catamarans, water skiing, aqua trampoline , water slide and so on
Lake in Bukovel or the Carpathian Sea
Attractions near Bukovel
If you plan to relax in Bukovel, then I recommend paying attention to the nearest attractions that are worth a look.
First of all, I advise you to go to the Hook Falls (Zhenzhensky Falls).
It is located 15 kilometers from the complex.
The exact address. Mykulychyn, ur. Zhenets.
Hook of Czeckec
Further from the Hook Falls you can continue your journey to the cozy city of Yaremche.
There are several interesting sights here, so to see everything, it will take you all day.
So, what can you see in Yaremche?
First of all I recommend going on a walking tour on the Dovbush Trail.
On the marked route you will see many interesting things: the stone works of the sculptor Darius Grabar, the Dovbush Rocks, on the viewing platforms you will have the opportunity to enjoy the beautiful panorama of the Ukrainian Carpathians, conquer the peak of Makovice, then go down to the Probi waterfall. By the finish of the route you can look at the souvenir market and buy a souvenir.
To the city of Yaremche from Bukovel – 39 km
Dovbush Trail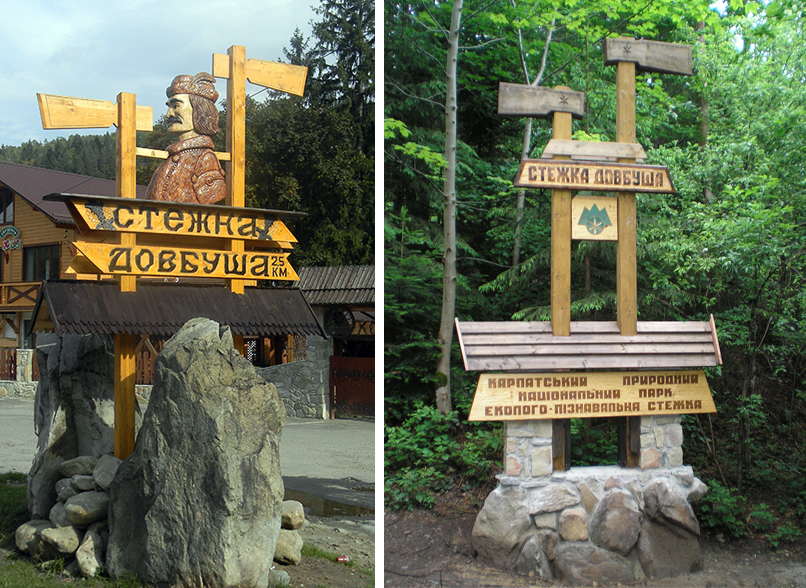 If you want to conquer the highest mountain of Ukraine Hoverla, then safely go to the village of Vorokhta at the base of Zaroslyak.
It is from this base that tourists begin their ascent to the 2,061-meter-long miracle of nature.
It should be noted that the entrance to the reserve is paid, but the payment is not high in the chapel 20 UAH.
For the ascent here are marked two marked routes, the first 4.3 km, and the second 3.7 km.
But, I strongly recommend climbing a long route, it is much easier.
To the town of Vorokhta from Bukovel – 34 km
Panorama of Hoverla