No matter how a person demonstrates superiority, nature still takes revenge, recalling its limitless possibilities. Pashinsky quarry is a vivid example of this. In the local area you can clearly see how nature confidently wins its own from modern civilization.
Almost all the pits of the quarries, sooner or later, are filled with groundwater. Subsequently, a new natural landmark with crystal clear water and magnificent nature around arises. It is such tourist places of Ukraine that are relevant today as never before, which, like a magnet, attract everyone who wants to relax outside the city in nature.
It turns out that not far from Kiev, there are plenty of similar locations ideal for family travel, fishing and green tourism. Accordingly, having the desire to get out of the suffocating city on vacation by the lake with a tent, pay attention to the Pashinsky quarry, it may become for you the best idea for outdoor recreation.
Pashinsky quarry, today
Pashinsky quarry is a little-known attraction of the Zhytomyr region and an ideal place for a relaxing holiday. Today it's not crowded here, but for now! Indeed, the proximity to Kiev, the development of domestic tourism and the relevance of traveling in Ukraine is noticeably gaining popularity.
Visually, the reservoir is an oval shape with a length of 500 meters, a width of -200 meters and a maximum depth of 54 meters. On the perimeter of the quarry is magnificent nature, so for summer leisure, the place is just right.
Pashinsky quarry for tourists
Popular resorts on the Black Sea, it is certainly great. But, you can have a great time at the Pashinsky career. Especially if you prefer cycling, independent travel in Ukraine by car, extreme relaxation or diving.
Nature, clear water, the opportunity to put up a tent, arrange gatherings around the campfire, treat yourself to barbecue, climb the rocks, explore the depths of the quarry and go fishing – this is a usual leisure for a tourist in the local area.
How to get to the Pashinsky career?
It should be noted that the quarry is located only 180 kilometers from the capital, Zhitomir is 86 km, and from the city of Korosten to the reservoir, the total length is about three kilometers. Accordingly, to get to the place of rest you will have no difficulties. You can use the bus or personal car.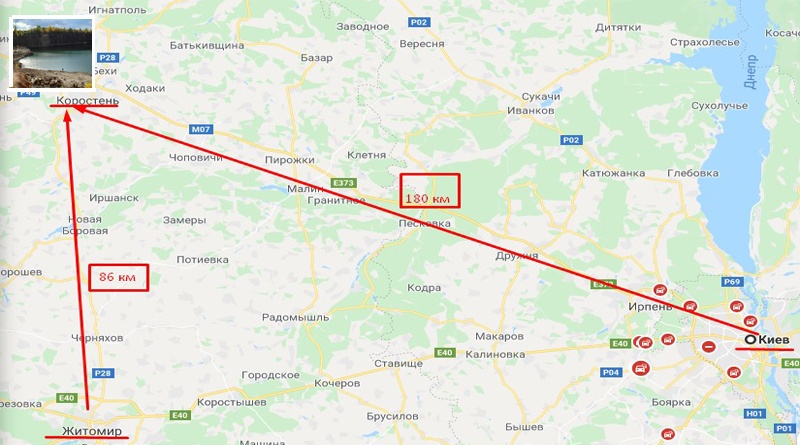 Nearest sights within 100 km
Radomyshl Castle – from Pashinsky quarry only 90 kilometers;
Malinsky Underwater Museum – 57 km.
Location
Address: Korosten, Zhytomyr region.
GPS coordinates: 50°59'11.8″N 28°38'42.0″E